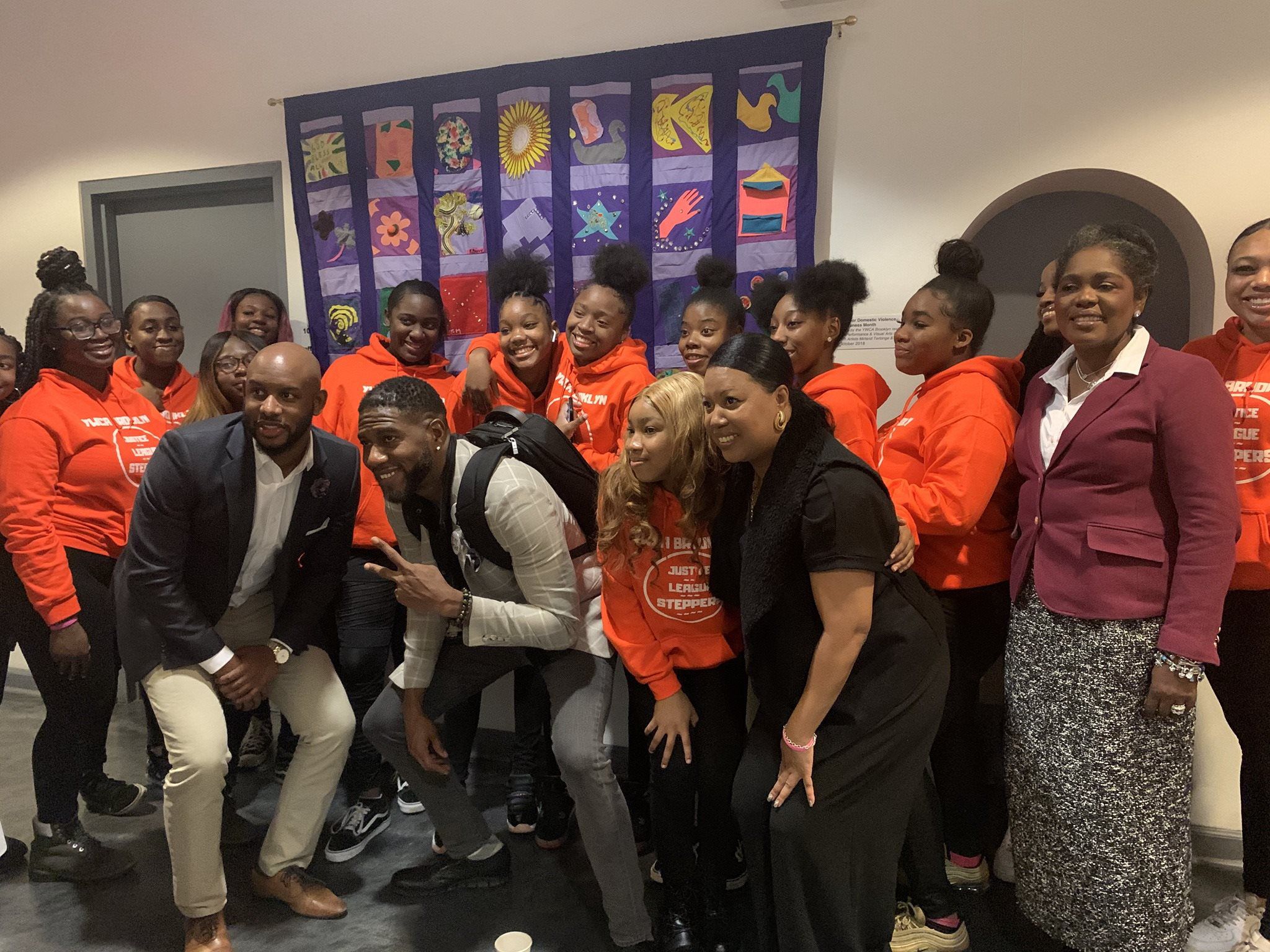 Mentoring
Nurture a child now and enrich a life for a lifetime. 
 The MIPO mentoring program helps to empower youth to make positive life choices that enable them to maximize their potential. Our mentoring program vouches to connect, support and guide youths to transition into future leaders. By becoming part of the social network of adults and community members who care about youth, mentee will learn how to channel their powerful energy into a path full of opportunities.  
Your Role as A Mentor Role
Take the lead in supporting a young person through an on-going, one-to-one relationship

Serve as a positive role model

Build self-esteem and motivation

Help set goals and work toward accomplishing them

Train on soft skills and life skills
Be willing and able to make a one-year commitment to mentoring

Be willing and able to communicate with your mentee a minimum of 2 hours per month, throughout each month 

Communicate with your mentee in between face to face visits

Attend an initial information and orientation session

Attend mentor/mentee group events, mentor support groups, and program recognition events when possible

Provide shadowing opportunities
You want to be part of empowering a youth?
Do you need a helping hand in setting career goals, educational goals, improving interpersonal skills, a chance to get into an internship program? 
FAMIP (Financial Assistance – Making the Impossible Possible) is a scholarship program founded under the auspices of MIPO, Inc. after the Haiti earthquake to enable youth of immigrant descent to pursue higher education. We believe that educating our youth of today will create leaders of tomorrow – planting one seed at a time. Recipients of this scholarship will have to demonstrate a strong potential for academic success but are faced with socio-economic conditions that hinder them from reaching their full potential.
We invite all high School Seniors to apply!
Sponsor a FAMIP scholar today! As a sponsor, you will get acquainted with your scholar by receiving letters of recommendation, bio, etc. A copy of their transcript and/ or report card will be provided as well.
Click below to sponsor a scholar!
The Fernand & Viergina Backer Scholarship Fund
This scholarship was created in honor of this blessed couple who dedicated  and sacrificed their lives to educating their children. They strongly  believed that education is the key that opens doors of opportunities. They came from humble beginnings; but, their faith in God with a focused lens on a bright future for their children allowed them to provide the necessary tools to ensure that all their children achieved their highest level of self-expectations. They never ceased to be in pursuit of their dream of having successful children who are grounded spiritually, socially, emotionally and financially. Because they have given so much of themselves, their children saw that it was befitting to create this scholarship in order to provide youth empowering opportunities for a propitious future. This scholarship will be financed ONLY by the Backers.
Anyone who is a recipient of this scholarship must have the qualities that  this couple embodied, zealous, studious, community wellness, determination and a spirit-filled soul. The Backers will be part of the selection process for this scholarship. We invite those who are qualified to apply.
Bert Leon Strong Scholarship Award
Bert Leon Strong valued the psychological completeness of education and was a clear and big picture thinker. He admired people who exuded confidence, grit, and determination. He was a gentleman, great storyteller, fun-loving, curious, and careful observer of human behavior. He never took anything or anyone for granted. People were attracted to his unapologetic manner, which came about from knowing exactly who he was and what he represented. He wrote incessantly about his life's journey; thoughts and findings on law, education, politics, capitalism, labor, and religion. He was a proponent of critical thinking; defined as reasonable rational thinking that helps us decide what to do or to believe. He voraciously read and listened to lectures by the foremost thinkers on Black empowerment, scholars who made an impact on thought and inquiry, and interested in the safety and self-sufficiency of people. He was passionate about the upliftment of Black personhood. His love for great literary works was rivaled by his love for family, music, and the game of chess. He was loved by many and Igbo friends of Nigeria gave him the name Chukwuemeka which means God has done great things for me.
Guy Blaise Scholarship Fund
The Guy Blaise Scholarship Fund is created on behalf of our beloved brother who highly esteemed education, hard work and commitment as the backbone of creating world leaders. The family would like to keep his memory alive and connected to the moral values that he exhibited during his lifetime, which was incomparable. It is for this reason that his sisters saw it fit to start a scholarship fund on behalf of Guy Blaise. Every year, a well-deserved youth, of immigrant descent would be awarded with the Guy Blaise's Scholarship through a non-profit organization, Making the Impossible Possible, Inc. (MIPO) that Guy trusted and supported.  
Every fall, MIPO hosts a Youth Summit in partnership with other organizations to empower middle school to college students. This is an educational and fun event that require active and committed participation from scholars. This needed opportunity offers scholars networking, connections and an opportunity for high school seniors to earn a scholarship on the spot. We encourage students, educators, mentors and service leaders to register as a group for this event.
Fall 2020 Youth Summit - Date TBD
Interested in future Youth Summits?

Enter your information to stay updated
Summer Talent Ed Workshop (Haiti)
Every year MIPO's team runs a S.T.E.W. camp (Summer Talent Ed Workshop) in Haiti. Each summer, we service over 300 students by providing them hands on experience with the arts and crafts, theater, music, robotics, STEM and Yoga. The S.T.E.W. camp is a way to help build strong foundation in children, which will ultimately transform a generation of that country.
We are always looking for volunteers to go on this mission trip. If you are interested, do reach out to us at info@mipoinc.org
or complete the interest form.
Haiti Teacher Lead Certificate Program (Haiti)
Through the MIPO Teacher Lead Certificate program we conduct professional development training for educators in Haiti. This intensive training program, presented by MIPO's expert team, provides educators with research-based techniques and methods that can be utilized in their classroom to impact every child's academic progress. They are provided with resources to support instructions and to aide in promoting quality education for all children no matter what their background is.  
Educators who complete this certificate program, have the sole responsibility of assisting and supporting other educators to improve their teaching methodologies. Our methods help teachers move beyond traditional models in order to develop students' cognitive skills.
If you are interested in the Teacher Lead Program,
Do you want to learn English?
MIPO, Inc. launched its virtual international ESL program in the summer of  2020! We are excited about the possibilities of having our teachers, school administrators and just anyone interested in the English language to communicate fluently through our program. This has always been our goal and we are happy to see that it is coming to fruition. Our team consists of educators with more than 20 years of experience with guaranteed success. 
You Can Start Your Journey Here!
Interested candidates should fill out the application form to connect with  us and start your learning journey. We will contact you as soon as possible. You can also send us an email at info@mipoinc.org
Donors can donate the following ways:
Or by mailing a check to:
Making the Impossible Possible, Inc.
P.O. Box 360171
Brooklyn, NY 11236